During the Nordic Concrete Research Symopsium in Stockholm, Tobias Danner was awarded the award for best research article, Danner received the award for the article Tobias Danner, Harald Justnes:
"The Influence of Production Parameters on Pozzolanic Reactivity of Calcined Clays" which was published in Nordic Concrete Research, no. 59, 2018.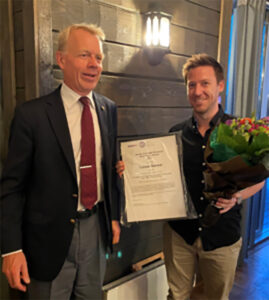 The Nordic Concrete Research Best Paper Award is awarded every three years during the Nordic Concrete Research Symposium. The prize is awarded to 1-2 young researchers (under 35 years of age at the time of publication) for an article published in the Nordic Concrete Research Journal in the time between two symposia. In the assessment of the articles, emphasis is placed on news value, research method and the authors' communication skills. This time it was five years since the last symposium and thus five years since the previous award. This year's award was therefore extra high and Tobias Danner is warmly congratulated for the best article from a total of ten publications of the Nordic Concrete Research Journal.
The above-mentioned article is distinguished by an innovative and relevant topic, thorough research and documentation and a clear presentation of the material.
Nordic Concrete Journal is published twice a year and each issue contains 6 to 8 Nordic scientific articles. The NCR Journal is free and can be read by anyone. Read more about NCR Journal here.